Who is our Home School link worker?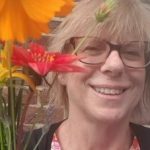 My name is Annie Welch. I have worked in children and family settings for over 30 years, having a few years out of the workplace to care for my own two children in their infancy.
Over the years, I have, through training and experience, developed knowledge and skills in many approaches that support children, families and colleagues. These include guidance and advocacy on understanding behaviour and recognising their challenges, as well as providing individual or group work to promote the emotional wellbeing of our students.
Much of my role involves liaison with or signposting to other key agencies such as Health, including CAMHS: Children's Services: Voluntary and Charity organisations etc. I use a "toolbox" of skills and interventions creatively in my work, and I have learned a great deal from Gosden House children, families and colleagues.
History of the Role
Gosden House was one of the first schools in Surrey to directly employ someone in this role.
As long ago as 2000, the development of this pastoral post was agreed, as it reflected the school's motto of "Children First, People Matter".
It was believed that in order to reach their educational potential all children, and especially Gosden students, require support to meet the needs of the "whole" child and reduce barriers to learning. This belief holds strong today, is reflected in our published ethos and is backed up by an increased understanding of neuroscience.
The role includes the following:
Individual child or family support
Resource finding / signposting / referral
Co-ordination / attendance at multi agency meetings, including EHCP Reviews if appropriate
Close liaison with teachers, SALT, OT, etc
Resilience workshops-transition
Safeguarding liaison/training/policy review
Training and advocacy using a trauma informed approach
"Thrive" development and integration
Early Help
Supervision support to HSLWs and other colleagues
You can contact me on the school number 01483 892 008; by mobile 07864 721931or email: anniewelch@gosden-house.surrey.sch.uk
Issues might arise in discussion with your child's Class Teacher who may refer to me to follow up.