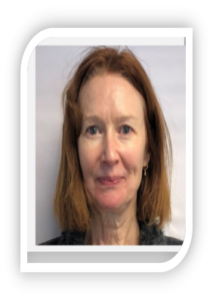 Hello, I am Ginny and I am the new Arts Co-ordinator, my job is to ensure the smooth running and efficiency of all the arts programmes within the school.  I am a professional voice and dialect coach having worked with actors and dancers. I came here as a part time Learning assistant to fit in with the school run but I liked it so much I stayed.
Here at Gosden, we are set on educating our children's whole being and that is why we think the arts are so important.  They encourage a positive culture and climate within our school.  Drama and the arts allow us to develop a safe space for our children to learn and experiment, allowing them to grow in confidence and learn how to think positively about themselves and their learning.  Drama allows our children to connect new knowledge to personal experience and express what they have learned to their peer group and others.  We have seen that it increases a child's confidence, concentration, motivation and teamwork.
The children engage in weekly music lessons, we have choir and band practice every week, where the children can learn a pop song or practice chords on the drums, bass guitar, keyboards and ukuleles working towards a completed piece of music.   We regularly have Rocksteady Music visit us where the children can learn together in a rock band.
The Artsmark Gold Award
We are delighted to announce we have achieved this award and were given the following feedback:
---
---
'Gosden House School ensures that your pupils experience a vibrant arts offer across the curriculum and throughout their school career. Pupils can take Arts Award which forms part of your Key Stage 4 exam offer, they take part in performances and work with arts organisations including Stopgap dance company, Synergy street dance, Yvonne Arnaud theatre and Rocksteady. Arts are threaded through the curriculum at primary and secondary level with your Arts Co-ordinator ensuring the offer is broad and carefully planned, including at primary within the Creative and Curious curriculum. Children and young people are engaged in, and excited by, opportunities to develop and display their talents. Pupils use the Arts to communicate their ideas and messages to parents and wider stakeholders, including sharing their views with the Surrey Safeguarding Children Partnership which resulted in changes to provision. Senior leaders support delivery of high quality arts through ensuing resources and capacity are available for arts delivery. Leaders see the Arts as a route to ensuring engagement, language development and resilience and have incorporated them into the whole school Building Learning Power project, part of the School Development Plan. Curriculum resources have been created in partnership with artists and arts organisations and they have provided CPD for staff. There is an understanding of what quality in the arts and cultural curriculum means. You have collaborations in place which improve the quality of teaching and learning and are developing the cultural community by linking to local creative practitioners and organisations.
---
---
Stopgap Dance Company are also frequent visitors to the school, our Arts Award pupils (Year 10 and 11) get to work with professional dancers on a devised piece that leads to a finished performance.  It is wonderful to watch them grow not only in range of movement and stamina but also to see them flourish and grow in confidence.
This year, we began work with Yvonne Arnaud Theatre in Guildford.  Our year 7 pupils have enjoyed working in the theatre and here at the school learning all about Pantomime for their Discovery Arts Award.  They particularly enjoyed being shown around a working theatre and learning all about what goes on backstage before and after a performance.  The whole school also got to see their production of 'Jack and the Beanstalk', which was a magical and memorable experience.
In the Summer term, our year 5 and 6 classes are working with Delight in the Woods, heading out for a day at Box Hill, where they experience a fully immersive magical story-telling experience and then continuing the work back here all the while encouraging them to free their imaginations and fall in love with stories and storytelling.
---
---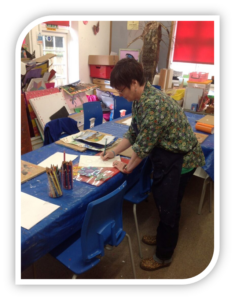 Trudy
Our resident artist has been busy with the children and we now have our artwork on display at Farncombe station.  'Butterflies' having been done by Owl and Rabbit class.
­
---
---
Butterfly Art at Farncombe Station (Owls and Rabbit Class)
In March, we have an exhibition of our children's work 'Our World'at Godalming museum supported by the mayor.  We also are exhibiting work at Cranleigh Arts Centre.   The arts build the creative side of the brain and we think that learning through play, music and art creates multidimensional individuals who are creative and innovative.